Set against the backdrop of Teagasc Moorepark, this pivotal annual meeting provided an engaging platform for participants to learn, share insights, and shape the future of sustainable agriculture. Visits to demonstration farms provided a hands-on experience with cutting-edge farming practices that aim to reduce environmental impact while maximizing productivity.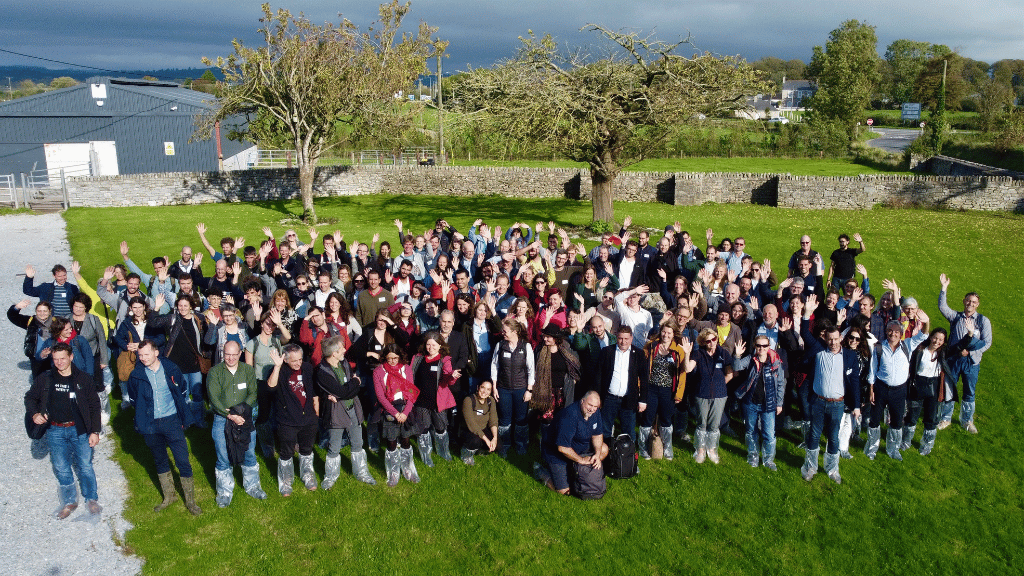 The Climate Farm Demo project, backed by Horizon Europe funding, is at the forefront of championing climate-smart farming practices in Europe. A central component of this initiative is the network of demonstration farms, which is vital in helping farmers address challenges and test innovative climate-friendly solutions at the farm level. This project signifies a substantial stride towards advancing sustainable agriculture practices throughout Europe.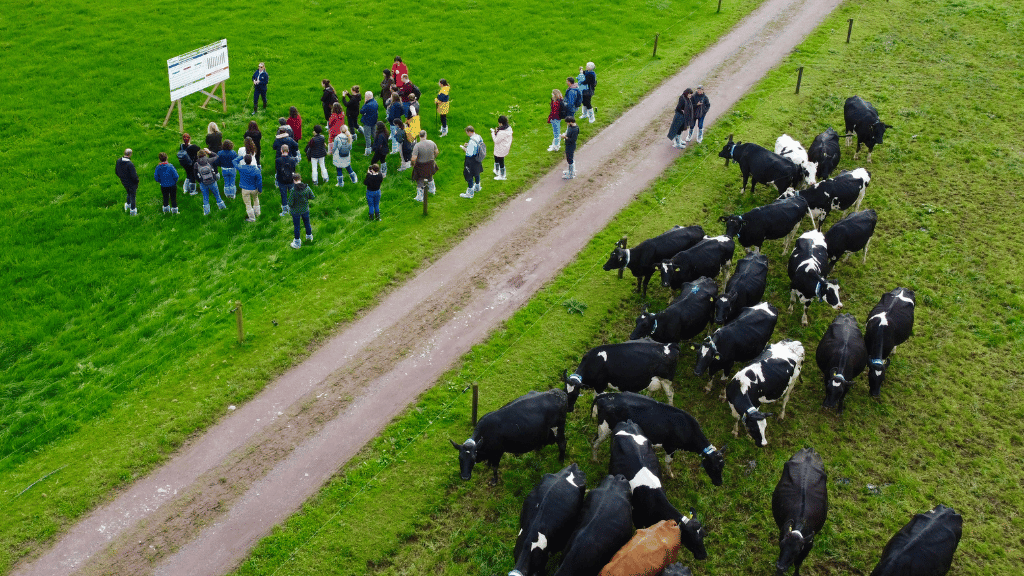 The three-day event featured a diverse range of activities and sessions, spanning topics such as climate-smart farming demonstrations, adaptation, and mitigation practices, DE&C efforts, and the intricacies of audit processes to address environmental impact. Esteemed speakers shared invaluable insights into integrated research, advisory services, and training within the agriculture and food industries.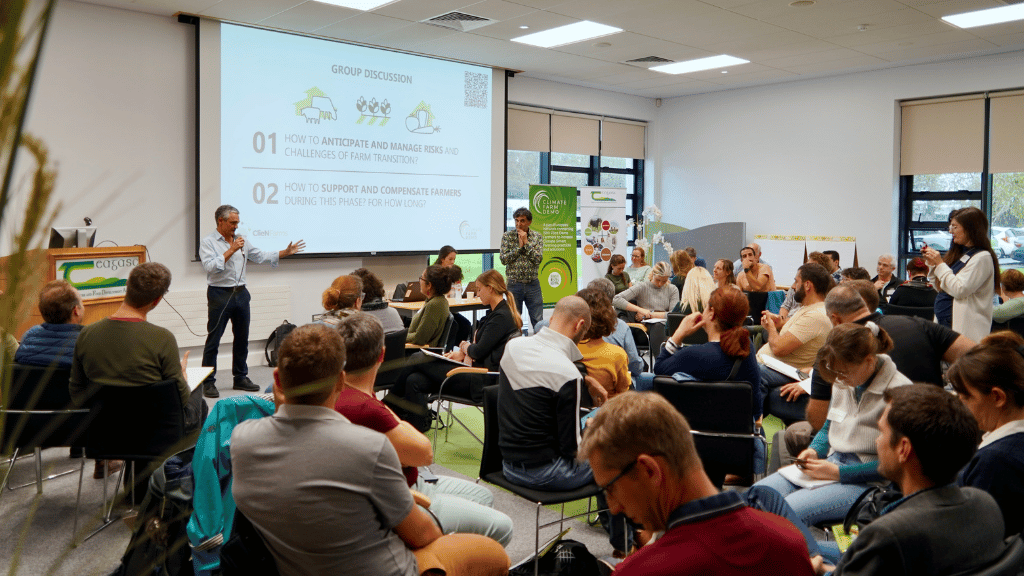 The opening day of the meeting saw project coordinators Christine Berger (Climate Farm Demo), Jacques-Eric Bergez (ClieNFarms), and Lies Debruyne (ClimateSmartAdvisors) extend a warm welcome, underscoring the critical role of these projects in advancing sustainable agriculture. Marion Sestier and Adrien Guichaoua, representing ACTA (The French Agricultural Technical Institute), enriched the discussion with valuable insights into project management. Christine Berger emphasized, "Climate Farm Demo is an ambitious European initiative for involving stakeholders and farmers in the climate transition. By applying adaptation and mitigation measures to our network of demonstration farms, we want to highlight the feasibility of this transition and the involvement of the agricultural sector in answering European and global objectives. Knowledge exchanges and partnerships will improve the sustainability of the agricultural sector for the next 20 years."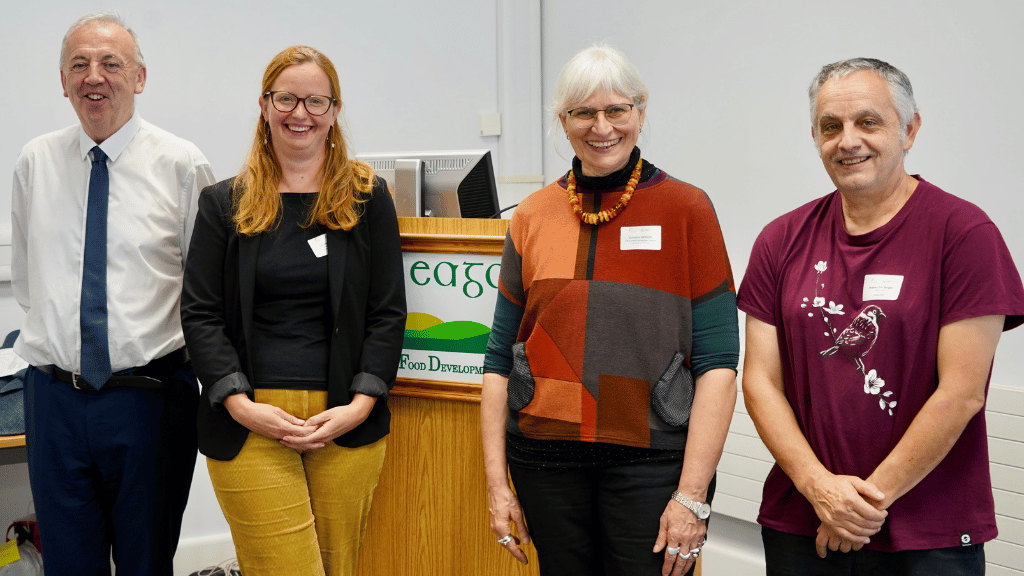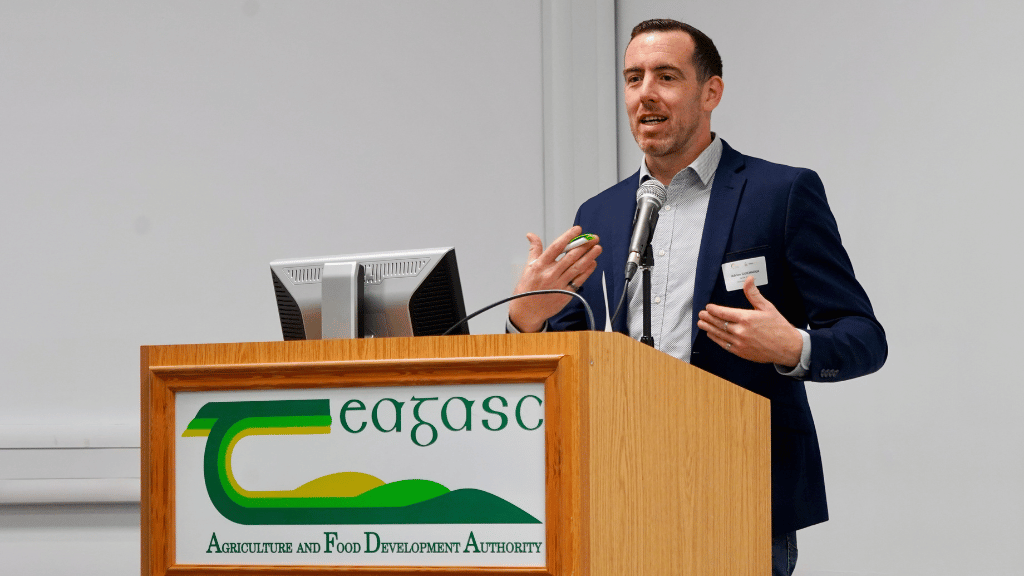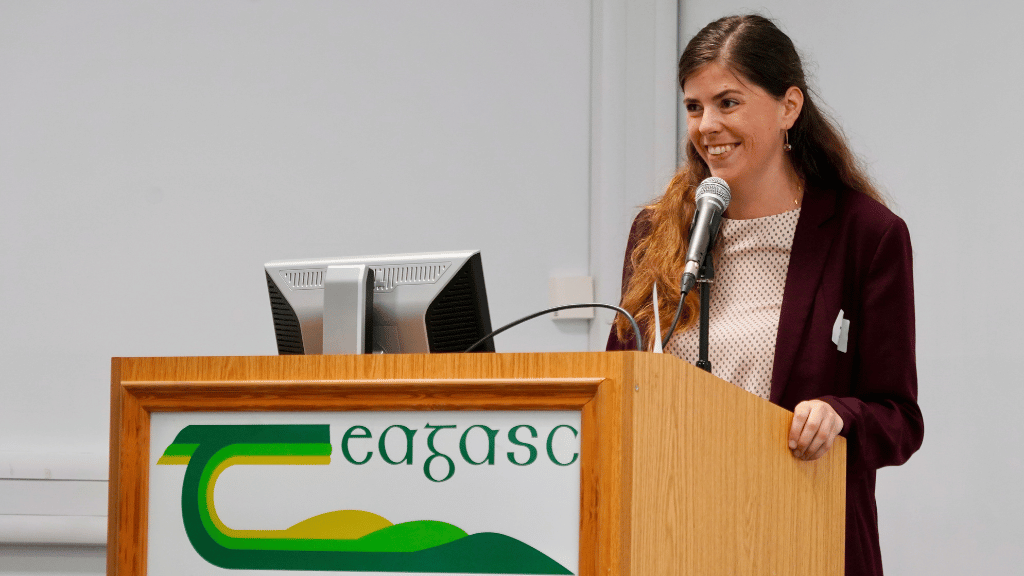 The meeting further delved into workshops and sessions, covering a wide spectrum of topics, including Living Labs and Integrated Systemic Solutions Spaces, the journey toward climate-neutral and resilient agriculture, carbon audit tools and AMP (Adaptation and Mitigation Plans), effective communication channels for promoting the project, as well as its impact and results at both project-specific and national levels, and innovative rewarding mechanisms. These dialogues aimed to foster multi-actor thinking and collaborative efforts in the adoption of climate-smart solutions.
The event's closing day highlighted the collaborative spirit of national coordinators, working together to craft impactful knowledge exchange plans and discuss the next steps. This collective commitment to knowledge sharing and innovation underscores the dedication of participants in shaping a sustainable future for farming.
As a fitting conclusion to this inspiring gathering, delegates visited the Teagasc Farm in Moorepark and joined a closing session where the most active participants in the social media contest were recognized for their enthusiastic sharing of demo photos and session highlights on their X and LinkedIn platforms.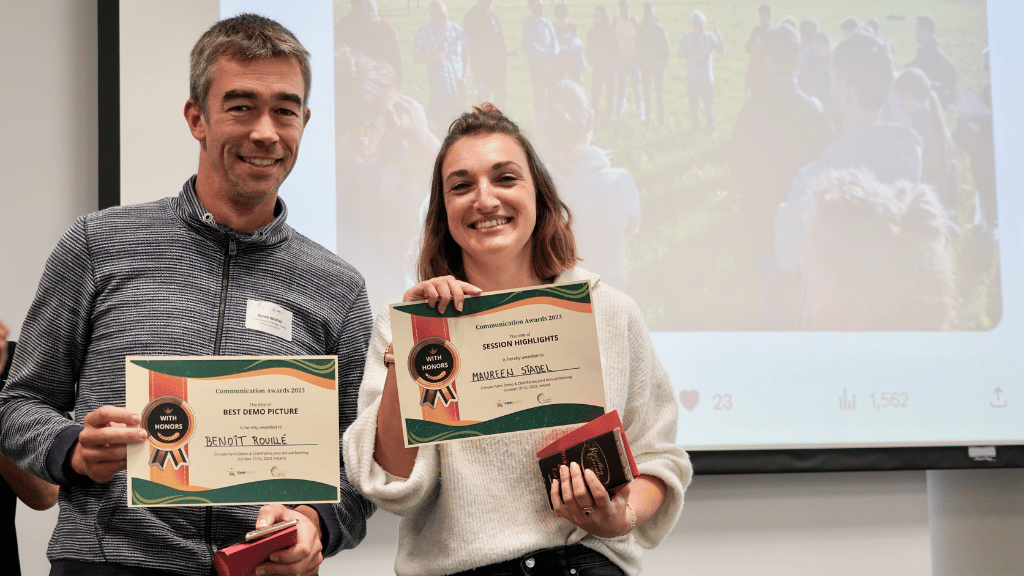 Tom O'Dwyer, Head of the Signpost Programme at Teagasc and ClimateFarm Demo Work Package Leader remarked, "Teagasc is delighted to have hosted this large group of agricultural professionals from across Europe. Creating opportunities for sharing experiences is an important element in fostering collaborations with European colleagues. We showcased our approach to supporting demonstration farmers, and delegates participated in three demonstration events on farms.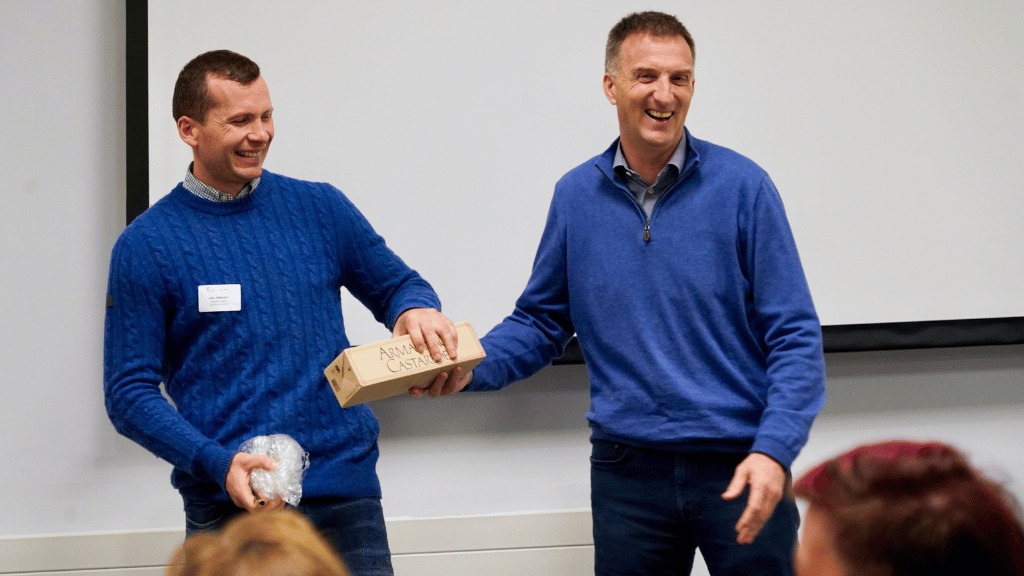 We wish to extend our heartfelt gratitude to all the participants and dedicated workshop/session facilitators who made our annual meeting a tremendous success. Special thanks go to: Pat Dillon, Tom O'Dwyer, John Greany, Karl Richards, Gary Lanigan, Teagasc; Brocas Catherine, Josselin Andurand, Remi Vial, Institut de l'Elevage (idele); Maria Teresa Pacchioli, CRPA – Centro Ricerche Produzioni Animali; Dr. Jan Peter Lesschen, Herman Schoorlemmer, Lenora Ditzler, Wageningen University & Research; Lin Bautze, Research Institute of Organic Agriculture FiBL; Sophie Gendre, ARVALIS – Institut du végétal; Laure Triste, Lies Debruyne, Jo Bijtebier, ILVO; Daniel Zimmer, Laurène Lebelt, Pernille Modvig, Climate-KIC; Luís Mira da Silva, Diogo Moniz, Maria Ingham Lopes de Mendonça, Dina Lopes, CONSULAI; Alfred Grand, Grand Farm; Deirdre Hennessy, UCC; Dr. András Vér, Széchenyi István University; Rosa Maria Heredia Hortigüela, Universidad de Almeria; Dajana Vujaklija, BioSense Institute; Katja Klumpp, Durba Kashyap, INRAe; Trupthi Narayan, Phillippe Schläpfer, AgriCircle; Juerg Zaugg, Nestlé S.A; Molly Brown, Danone, and Pablo Modernel, FrieslandCampina, and Alice Midmer, Game & Wildlife Conservation Trust.
Gratitude is extended to the farmers and facilitators who warmly embraced the farm demonstrations, including Joe and Olivia Morrissey (Rostellan Farm); Pat Collins; Alan Dillon, Tommy Cox, Gordon Peppard, Fergal Maguire (Teagasc DairyBeef 500); Stuart Childs, Nora O'Donovan (Teagasc), and Luc Delaby (Teagasc and INRAe).